New third board listing ceremony successfully held
Date:2020-07-20
Browse:457
On the afternoon of July 6, 2015, Tianhai fluid held the new third board listing ceremony in Beijing National SME share transfer system. Song Guoquan, Secretary of Tongling municipal Party committee; Shan Qianqian, deputy secretary of Tongling municipal Party committee; Jiang Ya, executive vice mayor of Tongling municipal Party committee; Wang Yijun, director of Tongling Economic and Technological Development Management Committee; Wang Liling, director of Tongling financial office; Huang Yazhen, deputy director of Tongling Economic and Technological Development Zone Management Committee; Zhao Min, President of Tongling Valve Management Association; Ding Shengliang, general manager of OTC Marketing Department of BOC International Securities Co., Ltd Wang Shengyuan, chairman of the board of directors, Zhao Guangsheng, general manager of the company attended the listing ceremony.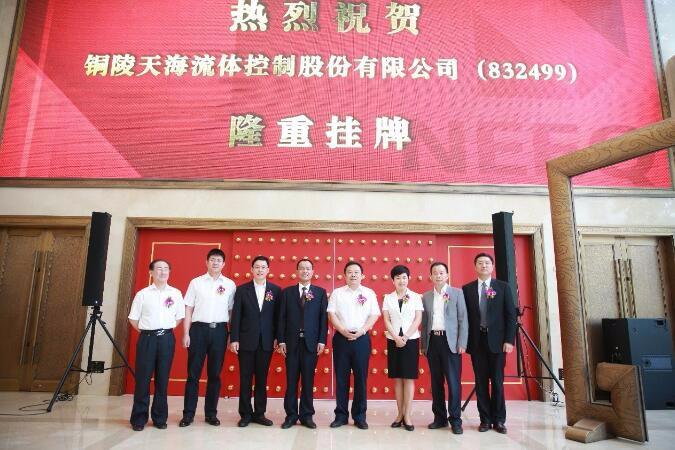 Entrusted by song Guoquan, Secretary of the municipal Party committee, mayor Jiang Ya congratulated Tianhai fluid on its successful listing on behalf of Tongling municipal Party committee and Tongling municipal government. Emphasizing the listing of Tianhai fluid is of great significance to lead private enterprises to enter the multi-level capital market, stimulate the vitality of enterprises, and accelerate the transformation and upgrading. It is hoped that Tianhai will take this listing as an opportunity to further improve the governance structure, strengthen enterprise self-discipline, enhance product R & D and innovation capabilities, open a new journey, realize new development, achieve new results, actively participate in the construction of capital market, and make new and greater contributions to local economic and social development.
Wang Shengyuan, chairman of the company, pointed out in his speech that the arrival of leaders and guests is the concern for small and micro enterprises and the greatest encouragement for entrepreneurship and innovation. After Tianhai fluid and the capital market are connected, two changes will be implemented: one is to change the production of ordinary valves to the production of special valves; the other is to change the marketing mode from single OEM production in the past to focusing on independent brands, supplemented by OEM, so as to lay the foundation for sustainable development and strive to become a fine model factory in valve industry. Finally, on behalf of Tianhai fluid, chairman Wang Shengyuan promised to repay the society, the government, the market and investors with excellent business performance.